It's remarkable how a leftwit can look at Obama agitprop and see racism where none exists.
From the pinhead Mr. Max Pics
I though for a while about posting this. Then I did some research and got mad.

These are pictures found on conservative facebook sites and other places. While I understand that there are unfavorable pictures and cartoons during every election and during any politicians term in office I like to think that I have been careful about posting anything that portrays any harm or disparage their religion or race.
The guy actually posted a couple that I've never seen before that made me laugh. Unfortunately the credits were stripped off (including one of mine and 2 of the Looking Spoon's) so I can't give credit where credit is due.
But enjoy -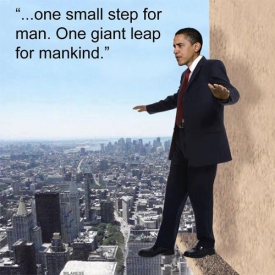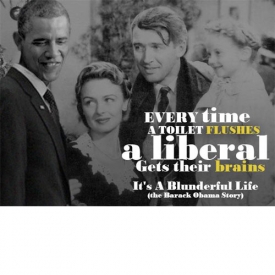 UPDATE: On another leftarded site they are calling this image that I created…. RACIST! (notice that the credit is stripped out, but the idiots left my name in the blurb.)
Here is a comment from the site. This level of delusion should be dealt with with a net and a Thorazine dart -
Rajendra Gupta

Americans are fortunate enough to get Barack Obama in the most critical period of American history as their President who handled all the problems – economic, social, natural, political, international and all – in the best possible way, never grumbling that some of the crucial issues were leagcies of his predecessors. Imagine and visualise with an unbiased mind what would have been the fate of the citizens of USA had there been some other person in his chair? Everyone relying on his/her conscience will unequivocally agree that Barack Obama has stood with his prople, come what may, and delivered the goods against all odds. Is it not, then, very unfortunate and shameful that a section of Americans should launch a tirade against him and ridicule him in all possible manner? This is really very deplorable and shocking!

.
Here's another from a guy that might have to wear a rubber bumper around his forehead -
.

Tom McNamara

· Top Commenter ·

Bloomington, Minnesota

Yes, the anti Obama crowd sure has a lot to complain about…

Stock market setting records

Jobs are back

Unemployment down

Housing is going to hit records this summer

Manufacturing is back

One war down one war shutting down early

Banks are Finally under the microscope for the crap they pull on all of us

Wall Street under a microscope with new regulation to stop the thief a

New health care law…a great start to save it from total collapse

New energy sources, fossil fuel at record levels from USA

Guns control being put in the public eye…finally!

Obama will be in the future one of the greatest Presidents in our history, and you know why? Because every bottom feeder slime bag who has manipulated our system is after him…that says volumes.

Support our President!!

..