Have you ever noticed that lesbians tend to be fatter than gay guys? What was once the setup to an Andrew Dice Clay joke is now SCIENCE.
And these women — these victims — are in danger. Because of you damn wingnuts.
The National Institutes of Health (NIH) has awarded $1.5 million to study
biological and social factors for why "three-quarters" of lesbians are obese and why gay males are not, calling it an issue of "high public-health significance…"
The investigators say there has been "almost no" research
devoted to this disparity, and they have set out to find the biological, psychological, and social factors behind it…
However, the NICHD said the future
of the project is uncertain because of the sequester–automatic spending cuts that took effect on March 1.
!snip!
I remember Tammy Bruce tackling this subject YEARS ago. SO I did a little Googling.
Despite the apparent argument by some fluffy lesbians that scientists are mistaking "muscular" for obese, researchers are sticking to a finding that says lesbians are twice as likely as straight women to be fat. I tend to believe them. Last time I checked, of all the gay women in the United States (and yes, I know them all except for one or two), there was one Jackie Warner, plus one million lesbians who were not fat only because we're constantly fighting the battle of the bulge (but determined to get that six-pack. Okay, a two-pack), and then seven million other lesbians who are, well, fluffy and muscular in the Garfield way. Not in the Jackie Warner way.
Now, just to make sure things are clear:
Jackie Warner=Fit and Muscular. And, uh, appealing.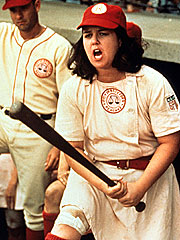 Rosie O'Donnell=Unfit and Fat. And, uh, unappealing.
Yes, I am the Queen of the Understatement. This should clear up any confusion about the difference between the two.
Lesbians twice as likely to be obese
Lesbians are twice as likely as heterosexual women to be overweight or obese, which puts them at greater risk for obesity-related health problems and death, US researchers said. The report, published in the American Journal of Public Health, is one of the first large studies to look at obesity among lesbians.
!SNIP!
Ya, "almost no research" on the topic means "we should be able to mine this ridiculousness for a few more years. no?"