ABC 13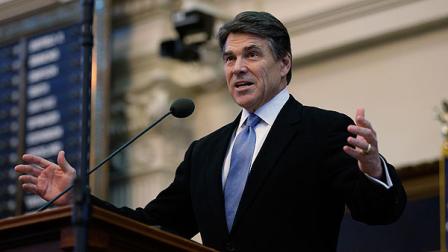 AUSTIN, TX – Gov. Rick Perry on Tuesday credited spending restraint for igniting the Texas economy but also proposed digging into the state's cash reserves to pay for $3.7 billion in water and road improvements while returning any excess revenue directly to taxpayers.
Perry used his State of the State address to argue that Texas' economic outlook is bright enough that it can afford to cut taxes while spending a major chunk of the $12 billion in the so-called "Rainy Day Fund." Doing so answers calls from the business community to improve the state's infrastructure but signals a dramatic departure for Perry, who spent years building tea party support by imploring the Legislature not to touch the fund.
"Our bank balance is healthy, our economy is growing, our future is limitless," Perry told a joint session of the Legislature.
The longest-serving governor in state history, Perry also ignored calls from Democrats to use the fund to restore $5.4 billion in cuts to public education passed in 2011 amid a $27 billion budget shortfall sparked by a then-sluggish economy.
With unemployment down, state sales tax receipts up and the economy humming, Perry urged lawmakers to cut taxes, saying "providing at least $1.8 billion" over the next two years "is a good place to start."
He also wants to amend the Texas Constitution to allow the state to return tax money it collects but doesn't spend.
"Today, I'm calling for a mechanism to be put in place so when we do bring in more than we need, we'll have the option of returning tax money directly to the people who paid it," Perry said. "Currently, that's not something our constitution allows. We need to fix that."