Warner Todd Houston has a report about a New Hampshire progfart legislator who is actually putting forth legislation that is designed to "dissuade conservatism and libertarianism from putting down stakes in New Hampshire."
I looked at the picture and thought, "look at this old fruit." As I read the story I saw the legislator's name- —— CYNTHIA.
I'm glad I wasn't drinking anything.
The combination Double Take/Spit Take could cause permanent neck damage and upper respiratory distress and should only be performed by professionals.
This is "Cynthia."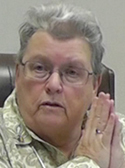 Note to Cynthia: You're a fascist. You know that, right? And Peter King wants his hair back.
Question.
Are you setting the precedent that it's cool to outlaw ideology? Because, as you know, blacks vote 90% left and it would be awful if someone kept the blacks out of New Hampshire by outlawing progr… Oh, wait. New Hampshire's black population is 1.3%. I see you've already done that.
So you're a fascist, racist and a strangely mannish, yet gay looking, wo-MAN who legislates from a lily-white progtower. Good day, sir!
Story HERE