Lawmaker: Watergate-style hearings needed to get to bottom of Benghazi mess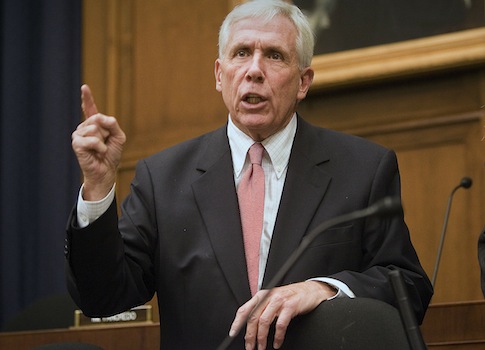 Lawmakers in the House have proposed establishing a Watergate-style investigatory committee aimed at exploring every aspect of the Sept. 11, 2012, terror attack in Benghazi, Libya, that claimed the lives of four Americans.
Rep. Frank Wolf (R., Va.) and a delegation of his colleagues introduced a resolution Tuesday to establish a House select committee, much like the one that investigated and ultimately brought down former President Richard Nixon.
The committee "would combine all existing investigations into a single and exhaustive review of the event and the subsequent revelations that followed, much like the select committees that were established during Watergate and the Iran Contra scandals of the 1970s," Wolf said in a statement.
Wolf, a vocal critic of the administration's response to the attacks, alreadypetitioned House Majority Leader John Boehner (R., Ohio) to create a select committee last month.
The Benghazi commission would be comprised of top lawmakers serving on key House committees, including the Intelligence, Armed Services, Foreign Affairs, and Judiciary committees.
Boehner would appoint five additional Republicans. Two additional Democrats would be appointed by House Minority Leader Nancy Pelosi (D., Calif.).
"The Congress has an obligation to fully investigate this attack in order to fulfill its constitutional responsibilities as it does its legislative work, particularly when it comes to national security and defending the homeland," Wolf wrote in his letter to Boehner.
"It also has a responsibility to educate the American people on the circumstances surrounding the attack, which led to the death of four Americas, including a U.S. ambassador."
"Too many questions remain surrounding the Benghazi attack and response," Wolf wrote in the letter to Boehner. "The Congress owes it to the families of the victims of this terrorist attack, and the American people, to fully investigate this tragedy."