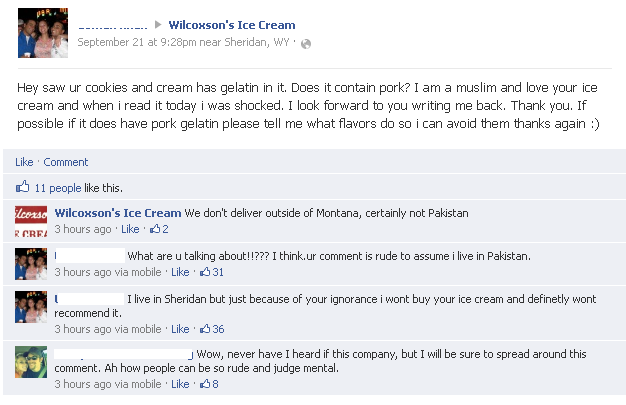 Local ice cream maker Wilcoxson's is under fire for an inflammatory comment it provided in response to a question on its Facebook page Wednesday morning.
An unidentified Facebook user asked the company on Sept. 21 whether its cookies and cream ice cream had gelatin in it. The user was concerned if the gelatin contained pork because the user was a self-identified Muslim.
Company president Matt Schaeffer said in a phone interview that he responded around 7 a.m., "We don't deliver outside of Montana, certainly not Pakistan."
The comment incited an immediate reaction from the original questioner, who is identified in a screenshot as being located near Sheridan, Wyo.
The user had an icon next to the name that said "Pakistan," Schaeffer said. Responding quickly, he said he jotted his response down.
"I thought he was making this comment from Pakistan," Schaeffer said. "It wasn't a racist comment… It was just an honest mistake."
!snip!
It doesn't matter, guy. This is 2012, and the left's favorite pass time is to be faux outraged. They will now destroy you, and all the jobs associated with your company.