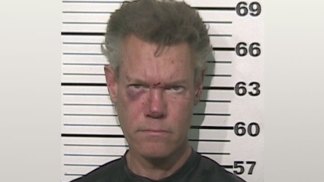 Take away his cowboy hat, his poofy hair, his boots, and his drive-in movie screen forehead and Randy Travis is 5'2″ tall. True Fact.

Country superstar Randy Travis is facing a felony charge for allegedly threatening to shoot a state trooper during a DWI arrest in North Texas Tuesday night, police say.
According to the Grayson County Sheriff's Department, Travis was arrested Wednesday following a single car crash on Farm-to-Market Road 922 at Clover Road near Tioga.
Sources tell NBC 5 that prior to the crash, a call was placed to 911 by a store clerk who reported Travis had walked into a convenience store naked to buy cigarettes.  The clerk said there were words exchanged and that Travis left without making a purchase.
A short time later, a second call was received by 911 saying a man was found lying in the roadway along FM 922 near Clover Road.
State troopers, responding to the 911 calls, arrived at the scene and found Travis, who refused a blood and breath test, with a strong odor of alcohol on his breath and several other signs of intoxication, police said.
Randy Travis is a danger to society and needs to be hospitalized. His driver's license needs to be taken away.