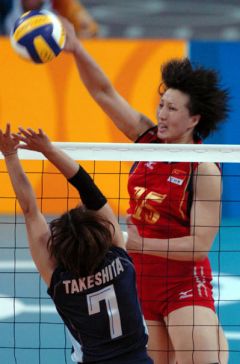 The Chinese team lost four of five matches at a world tournament that ended Sunday in Ningbo, China, falling to the United States, Brazil, Turkey and Thailand.
While Brazil and the US are powerhouses in women's volleyball, Turkey and Thailand didn't even qualify for the 2008 Olympics, where China won bronze.
"They have showed significant decline in their strength and fitness" coach Yu Juemin said of his squad after Sunday's defeat to the US. "We are wary of meat tainted by lean-meat powder, and we didn't eat any during the game period," Yu told the Shanghai Daily newspaper.
All Chinese athletes have been warned by the country's Sports Ministry to avoid meat contaminated with the powder, also known as clenbuterol, because it's banned by the International Olympic Committee as a performance-enhancing substance.
China bans the use of clenbuterol in livestock because of the chemical's noxious long-term effects on human health, but many pork farmers still administer it because it produces leaner meat. The World Anti-Doping Agency issued a warning last year about clenbuterol-tainted meat in China as well as Mexico, where it is also rampant.