Book by Judge John H. Wilson – Elected in 2004 in Bronx County, New York, John H. Wilson currently serves as a Judge in the Criminal Court of Brooklyn, NY. Previously the Law Chairman of the Bronx County Conservative Party, Judge Wilson was born in the Bronx and graduated from Pace University School of Law. In the late 1980′s Wilson served as an Assistant District Attorney in Bronx County. He currently resides in New York
The story is set in a greenhouse. The flowers there are of all shapes, sizes and colors. The flowers which grow in the wild outside are jealous of the flowers who live in the hot house, so one of the flowers from the outside sends its spores into the hot house to grow there. The flowers of the hot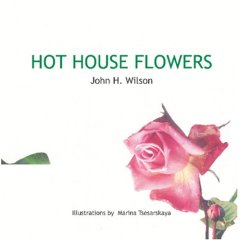 house are wary of the new plants, but some of the flowers castigate the others, telling them to welcome the strangers. Pretty soon, it is obvious that the new plants are weeds, taking over the water and soil of the hot house flowers; however, some of the flowers are still trying to make the weeds feel "welcome." Before the flowers are all choked off by the weeds, the master of the hot house comes home, clears out the weeds, reminds the flowers of all the good He has given them, and charges them with the defense of their hot house. The next time the outside flowers send spores into the hot house, the flowers are ready.
!snip!
I became aware of this book when researching Christina Gonzalez, an Occupy Wall Street activist who has spearheaded the anti-Stop and Frisk laws in NYC.
While in court for charges related to the Stop and Frisk protests she was in front of the author of this book and called him a "racist white pig." This led to contempt of court charges. I was watching a youtube video of some show shot in some guy's basement that had her on as a guest. The banter was a chilling glimpse into the mind of an ignorant community agitator.
She said she called Judge Wilson a racist white pig because she was aware of his book, which in her mind makes him a racist. Judge Wilson has explained that the book is an allegory for illegal immigration. She's dismissive of the addendum, implying it matters little and that it's only "opening up a whole new topic." She says this with a tone that indicates that this is even further proof of the judge's racism.
But we haven't gotten to the most disturbing part. No, she saves that for this gem:
"…He's here in Brooklyn… umm…  and he's residing (sic) over a case that has to do with illegal immigrants and black and brown people. I mean, it's completely prejudiced. It's, it's shocking to me that he would be allowed to sit and preside over this case."
Yes. I agree. And only judges who are under the delusion that murder is legal should be allowed to preside over murder cases.
What in hell's bathroom is the idiot talking about? Illegal immigration is ILLEGAL. A judge can't recuse himself from cases because he KNOWS THE LAW.
Perhaps this moron should put on a robe and get up on the bench and be the jurist.
THIS is what we get when a dope buys a bullhorn.
This is the interview. The part I'm describing starts about the 19 minute mark.