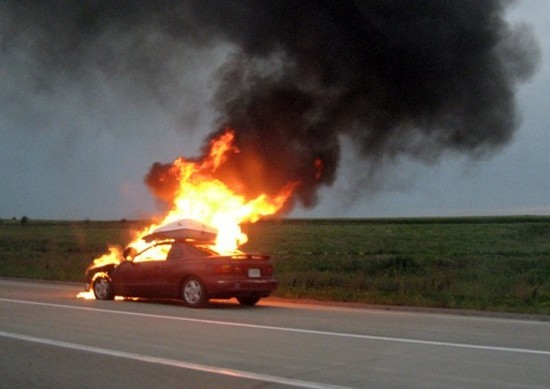 Fisker Automotive has implied that the Texas owner of one of its Karma models committed "fraud" or "malicious intent" in blaming the luxury electric vehicle for his garage fire last week, after he had to rescue his wife, mother and child from flames that spread quickly to his house.
The company's claim could be a fatal public relations move, as the chief investigator in Fort Bend County Fire Marshal's Office, Robert Baker, has also blamed the fire on the Karma. Fisker, recipient of $193 million (out of a $529 million total guarantee) loan backed by taxpayers via the Department of Energy, has suffered a series of publicity blunders including two recalls, a Karma breakdown at Consumer Reports' test facility, a SEC investigationof its primary venture capital raisers, layoffs, and a cutoff of its loan by DOE.
According to a report by Autoweek, the fire started shortly after the owner, Jeremy Gutierrez, parked the Karma in his garage. Gutierrez left the vehicle, which he had purchased in April, without plugging it in. Within minutes he reportedly smelled burning rubber.
"Yes, the Karma was the origin of the fire, but what exactly caused that we don't know at this time," said Baker, adding, "This looks just like golf cart fires we have down here." Apparently the Houston area has several each year.
Nevertheless, Fisker provided a statement to Autoweek that suggested fireworks or an electrical panel as possible fire sources, but also cast aspersions on Gutierrez.