I'd like to say "I hate to say 'I told you so'", but I'm not sure I can in good conscience.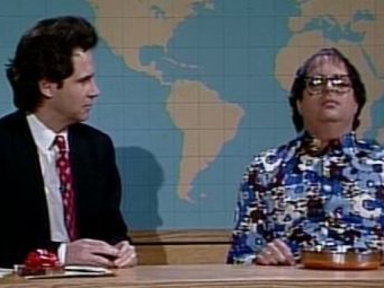 Comedian Jon Lovtiz doesn't like Obama. He's made his view very, very clear:
"This whole thing with Obama saying the rich don't pay their taxes is f**king bulls**t. And I voted for the guy and I'm a Democrat. What a f**king a**hole."*

"First they say … 'You can do anything you want. Go for it.' So then you go for it, and then you make it, and everyone's like, 'F**k you,'" Lovitz said. "[Obama] is the perfect example. He's amazing. He had nothing … and the guy ends up being at Harvard. He's the president of the United States. And now he's like, 'F**k me and everybody who made it like me.'"
He defended his words on Piers Morgan's show on CNN, leading AllahPundit to ask:
Exit question: Near the end, he tells Morgan that a lot of his Hollywood pals are disenchanted with Obama. Really? He means that they're disenchanted because O isn't quite liberal enough, right?
Fair question. But then via Hot Air we find that Lovitz went on Bill O'Reilly's show last night. I don't readily see a transcript available, so let me do it myself…
O'Reilly: The reaction to you…you live in Hollywood, you know you're in the show business world — most people there support Barack Obama, and they not only support him, they idolize him. What kind of reaction have you gotten from this?

Lovitz: Well, almost everybody agrees with me … and most of my friends are Democrats, you know I'm a Democrat, but yeah, they agree. They say, "hey, I work really hard and pay a lot of taxes," because it's not true. And I think it's just a divisive way to appeal to the masses to get votes. And it's just blatant and obvious.