We spotlighted Mr. Lewis's book, an Act of Self-Defense, HERE.
Commenters were buying his book like hotcakes. It seems Mr. Lewis has tapped into a real concern for many Americans – that we are listing towards Totalitarianism, and they are feeling helpless.
Tonight, speak to the author himself. I'll be listening.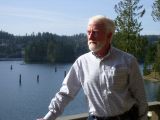 ~~~~~~~~~~~~~~~~~~~~~~

". . . even under the best forms (of government) those entrusted with power have, in time, and by slow operations, perverted it into tyranny." –Thomas Jefferson 1779
Tonight on The ANDREA SHEA KING SHOW
Erne Lewis, author
9 PM ET
Http://BlogTalkRadio.com/ASKShow
Ten years from now, Congress is controlled by lobbyists, unions, corporations, federal agencies and power-hungry professional politicians. While stealing our wealth they've wrecked the economy and destroyed individual liberty.
Four angry individuals believe deadly force is justified to restore the Constitution and regain our liberty. If their plan succeeds . . .  "the thieves that have stolen our liberty will pay with their lives, or resign, and if the voters agree, professional politicians will be forever barred from serving in Congress."
The Department of Justice begins a vengeful and bloody hunt for the "terrorists," but the hunt itself threatens our remaining liberties. When the first senator is "term-limited," it is clear the terrorists will not soon be caught. They have carefully prepared. They are inside federal law enforcement and they have access to the federal computer system.
But is deadly force justified to defend liberty?
Who decides?
When will it be too late?