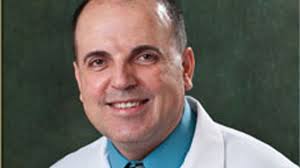 Dr. Farid Fata is accused of bilking Medicare out of at least $91 million with phony cancer diagnoses and unnecessary treatments.
In a surprise move, Oakland County oncologist Dr. Farid Fata has pleaded guilty to charges in a scheme to bilk Medicare out at least $91 million by prescribing unnecessary treatments and in some cases telling patients who weren't sick that they had cancer.
"It is my choice," Fata said of his decision to plead guilty. "I knew that the infusions … were medically unnecessary."
The Detroit Free Press, The Detroit News and other area media are reporting that Fata, 49, pleased guilty to health care fraud, money laundering and conspiracy to give and get kickbacks – 16 counts in all.
When Fata is sentenced on Feb. 23, 2015, he could face up to 175 years in prison and a $250,000 fine on the health-care fraud counts, and a $500,000 fine for money laundering. U.S. Attorney Barbara McQuade said she will seek a life sentence for what she called the most egregious case of health-care fraud she's ever seen.
Now, who was he working with, CAIR, ISIS or al Qaeda?
ht/ just the tip